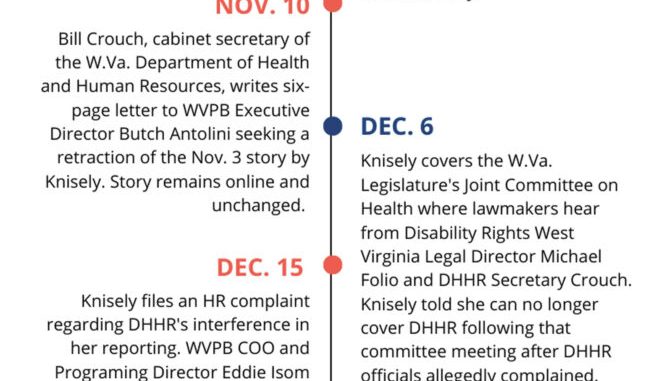 CHARLESTON — West Virginia Public Broadcasting has parted ways with one of its reporters after alleged retaliation from WVPB operational management and pressure from the Department of Health and Human Services.
According to Amelia Knisely, a part-time reporter whose beat included public health, WVPB told her that her services were no longer required in a Dec. 20 meeting.
Knisely, who previously worked as a Report for America Corps member for the Charleston Gazette-Mail and non-profit online news outlet Mountain State Spotlight, joined West Virginia Public Broadcasting in September.
Several of Knisely's stories over the last two years have focused on child welfare issues managed by DHHR, as well as a previous year-long investigation into the state's foster care system and accusations of abuse in state facilities.
DHHR, an agency with more than $7.5 billion in state and federal funding and more than 4,900 full-time employees, has come under scrutiny for a number of issues culminating with the impending resignation of DHHR Cabinet Secretary Bill Crouch effective at the end of the year.
Source: W.Va. Public Broadcasting reporter released after DHHR pressure