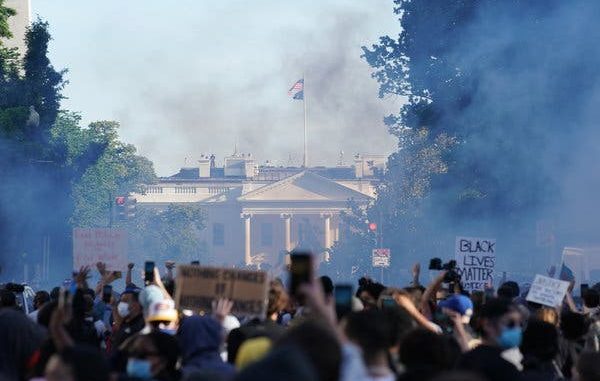 Washington D.C. is the nation's capital. It is being roiled by protest. And it is the one jurisdiction where the Army can deploy without needing approval from a governor.
So President Trump, declaring that "the destruction of peaceful life and the spilling of blood is against humanity and God," ordered the Army to deploy an active duty military police battalion for Washington, Defense Department officials said Monday.
The deployment of the military police unit — some 200 to 500 troops, from Fort Bragg, N.C. — is a sharp escalation in the response to riots and protests that have erupted in the capital.
Other jurisdictions have spurned such assistance. Governor Tim Walz of Minnesota declined Mr. Trump's offer of military police to respond to protests in his state, and other governors followed his lead, instead choosing to rely on their own national guard troops.
In Washington, the decision to deploy military police falls under Army Secretary Ryan McCarthy.
Mr. Trump made clear, Defense officials said, that he wanted the Pentagon to push back forcefully against protests in the nation's capital. The decision is "all POTUS," one Defense Department official said, using the acronym for President of the United States.
The deployment, first reported by CNN, will be to provide security, not law enforcement, Defense officials said, but it is unclear how the two functions will remain separate.
Mr. Barr also has stepped up the local response by federal law enforcement. According to Justice Department officials, the attorney general summoned hostage rescue teams to Washington around midnight on Sunday, and the department said it would increase the presence of federal law enforcement in the city again on Monday night.
Mr. Barr also directed the Bureau of Prisons to send Special Operation Response teams, or riot teams, to the capital.
Source: Protests Today Live: News Updates and Video – The New York Times